BUNKERS
Our bunkers are a made-to-measure solution especially for people, organisations and authorities requiring protection from radioactive and/or flammable objects.
Keen to know the different configurations and sizes? Download them here.
Our bunkers are used in diverse applications:
Bunkers for industrial radiography (NDT research)
Radiation-shielding walls
Bunkers for radioactive storage (e.g. ammunition, storage of radioactive materials, etc.)
Bunkers (storage) for flammable products (paint, thinner, chemicals, fuel)
Bunkers for storage of valuable goods
Pressure and sound bunkers
Would you like to know more
about Masterbloc bunkers?
Quality that meets
the strictest requirements and standards
Building a radiation or fire-resistant bunker entails meeting strict requirements and standards. After all, the bunker is meant to protect people from radioactive or flammable products and substances.
Our stacking blocks are certified by several relevant and recognised authorities such as Kiwa, the European Union, WTCB, as well as the Dutch government. In fact, Masterbloc is the only stacking block boasting 3 valid product certificates from KOMO, DIBt andBSB. Build confidently with Masterbloc!
Benefits
Pure blocks (sand-gravel-cement)
Secured with lead
+6 quality certificates
Bunkers of up to 10 metres
Shielding fromradiation and fire
Major cost savings
Installing a Masterbloc bunker makes a difference to your budget. Do you regularly need to use an external bunker? Then you will save the costs of transportation with your own bunker!
Quick, easy and 100% made to measure
Thanks to Masterbloc's easy stacking system, we guarantee an entirely made-to-measure solution. The bunker can be assembled in very rapidly. Do you need the stacking blocks in a different location? No problem! Bunkers are also easily dismantled and moved.
Full solution
Masterbloc starts by developing a customised plan. In doing so we take account of your wishes and consult other advising parties (such as radiation experts).
Does the plan satisfy your wishes and also the relevant requirements and standards? Then we will take care of the entire construction for you! Including the doors, roof systems and installing all the necessary parts to guarantee optimum safety.
All you have to do is take care of the excavation and foundation works.
Benefits
Customised and professional advice
Our own team always takes care of transport and placement
Because we produce 700 blocks a day, we are able to deliver quickly
Supply of custom-made doors and roof systems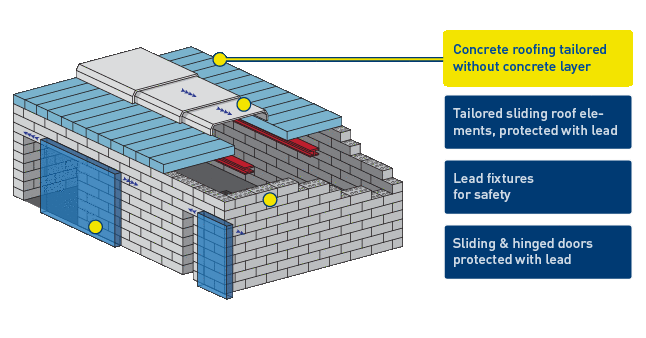 Need a roof structure or
a complete industrial hall?
Thanks to the innovative and durable structure of Masterbloc stacking blocks they can be combined with metal constructions to quickly produce complete structures. Masterbloc provides a complete solution and will guide you from start to finish!
Benefits
Masterbloc produces every component: gates, platforms, anchors, etc.
The entire project is managed under one roof with one contact person
All knowledge, experience and machines available in-house
Fast, high quality and complete solution