SOUNDBLOX
Stoneware in sound absorption
Soundblox from Soundsless Acoustics International are the solution to reducing an echo in a room, allowing people to make themselves easily understood. Soundblox are acoustic concrete or Argex blocks offering a high level of absorption, specially designed to create a pleasant acoustic environment. They are suitable for all kinds of indoor and outdoor applications.
These visible masonry-concrete blocks are produced by Masterbloc under licence for Soundsless Acoustics International. The building block features two vertical grooves which end in a hollow cavity. Any noise hitting the concrete block is largely absorbed. The damping  effect of a Soundblox wall can both be measured and immediately perceived.
A Soundblox element can be used like any other concrete block in building constructions. It  is simply placed and incorporated with mortar, and may also be painted. These characteristics are why Soundblox walls have been popular for many years and are found in all kinds of applications all across Europe. Soundsless Acoustics International has thus paved the way in functional sound absorption.
Solution for every concept and design
Soundblox acoustic blocks suit every concept or design and allow the integration of absorption in a stable (partition) wall which can be made into a high wall. They are ideal for sports halls due to their impact resistance and high level of absorption of low and medium frequencies.

35 years of experience in acoustic innovation
Soundless Acoustics originated in the Netherlands and has been operating in acoustic climate control since the 1980s. Meanwhile, with over 35 years of experience , the company continues to innovate and focus on finding new solutions which resolve and eliminate poor acoustic properties in specific areas. Soundblox are their most successful product in this domain.
Soundblox are produced under licence by Masterbloc especially for Soundless Acoustics International (Asona Group). They produce different types of Soundblox in every standard size and wall thickness. They also supply blocks in the same colour, structure and (in most cases) the same dimensions. For more information on the different types of acoustic blocks, click here.
Applications
Auditoriums
Schools
Roadside traffic barriers
Sound barriers
Theatres
Music studios
Swimming pools
Industrial halls
Sports complexes
Sports & gym halls
Benefits
Extremely high sound absorption, including low frequencies
Noise insulation = 50 decibels
Several types and sizes
Available in a range of decorative colours
Visibly clean masonry with limited tolerance
Robust material, good fire resistance
Used in the same way as any other concrete blocks
Dimensions
SOUNDBLOX WITHOUT
ROCKWOOL FILLING
G1 387mm x 87mm x 190mm (±2mm)
W1 387mm x 137mm x 190mm (±2mm)
N1 322mm x 187mm x 190mm (±2mm)
A1 495mm x 190mm x 195mm (±2mm)
SOUNDBLOX WITH MINERAL ABSORPTION FILLING
WITH A BLACK GLASS FIBRE COVER
G2 387mm x 87mm x 190mm (±2mm)
W2 387mm x 137mm x 190mm (±2mm)
N2 322mm x 187mm x 190mm (±2mm)
A2 495mm x 190mm x 195mm (±2mm)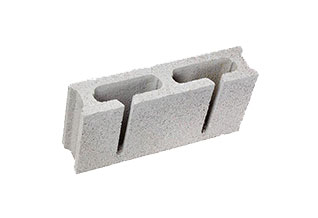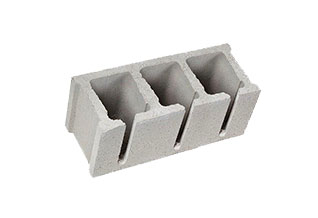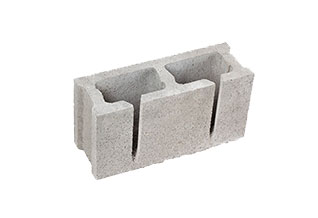 More info? Consult the Soundless
website for all details!